I know… you probably don't hear the von Trapp children singing with hands clasped in front of them and "curd and scones" doesn't have quite the ring that "jam and bread" does, but believe me – it's one of those "to die for" combinations.
We are fully anticipating the upcoming
Royal Wedding
here and by "we" I pretty much mean "me"… everyone I happen to mention it to says,
"Who's getting married? Do we know them
?" Don't these people stand in the line at the grocery store? Anyway, when you're hosting a pretend wedding reception for royalty you plan your menu in advance and do a trial run or two. It's a rough life but somebody has to do it.
Today I dusted off my old scone recipe to make sure it was as good as I remembered. I've been using this recipe at teas for years. It's not one of those fancy-dancy scones with currants, cranberries or
cinnamon chips – this one is perfectly plain so you can top it with whatever you want. And what I want is generally lemon curd and cream. It's like having your own personal lemon cream pie.
The Dickenson's Lemon Curd isn't bad at all. It's not homemade, but in a pinch it's pretty good for something you can pick up in your grocery store. Top it off perfectly with a mock Devonshire Cream (which in my opinion is much tastier than a real Devonshire Cream and far less expensive.)
Some of my other favorite toppings on a "plain" scone are honey orange butter, orange marmalade or raspberry jam. Strawberry jam is the most traditional topping but it's not high on my list.
Basic Scones
Heat oven to 425°
3 C flour

1 1/2 T Baking Powder

3 T Sugar

1 t Salt

9 T Butter (the 50/50 blend will work, but don't try margarine)

3/4 C Buttermilk (OR 3/4 Milk + 1 T Lemon Juice)

1 Egg, lightly beaten
I haven't pictured my Tupperware canisters with flour and sugar here – it's bad enough that you must envy my faux butcher block countertops. Don't hate me for my gourmet kitchen.
Mix the dry ingredients.
Cut in the butter with a pastry blender or two knives until the mixture resembles coarse meal. I recommend the pastry
blender – I've never had good success with the "two knives" method.
Make a well in the center and pour in the buttermilk. Mix until dough clings together and is a bit sticky. If you're dough isn't clinging add just a touch more buttermilk.
Turn out dough onto a floured surface and shape into two 6-8 inch rounds about 1 or 1 1/2 inches thick.
Don't overwork your dough or your scones will end up tough. Knead the dough only just enough to make it mostly smooth. Quickly cut into pie wedges or cut with a biscuit cutter. I prefer a 2 or 3 inch biscuit cutter.
Place on an ungreased cookie sheet
or baking stone with a bit of space between – you don't want them to touch. They won't get very wide, but they should get a lot taller.
Brush with a beaten egg for a shiny brown scone – not too much egg – you don't want to taste it on there…
Bake at 425° F for 10-20 minutes depending on the size of your scone. For a 2 inch scone bake about 11 minutes.
This recipe freezes nicely. Freeze in a single layer then place in an airtight container with wax paper or parchment between layers. Take right from freezer to pre-heated oven after brushing with egg and bake for 12-13 minutes. So you can make them now, stick them in the freezer and then have them warm and fresh for your wedding watching at the end of next month.
You'll get about two dozen 2-inch scones from this recipe. If that's too many you can easily cut the recipe in half – but why?
Mock Devonshire Cream
1 C Heavy Whipping Cream OR 8 oz. softened Cream Cheese

2 T Confectioner's Sugar

1/3 C Sour Cream
In a chilled bowl, beat the cream and sugar until medium-stiff peaks form. (If you're using cream cheese just stir together with the sugar.)
Fold in the sour cream until well blended.
This makes about 3 cups of cream.
Brew yourself a proper cup of tea and enjoy.
Today I'm linking with Lori at Paisley Passions Fun With Food Friday
Leslie at Night Owl Crafting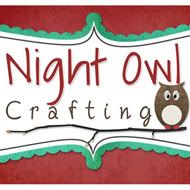 and Haley at Recipes I Can't Wait to Try. She's having a blog hop! You can see the hop below – check it out for other recipes you can incorporate into your menus.